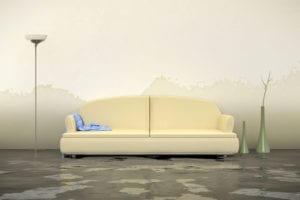 Water damage is one of the most common reasons that homeowners file insurance claims, but it's also one of the claims most commonly denied by insurance companies.
What Is Water Damage?
Water damage can occur in many different forms: flooding, sudden accidents, sewer backups, storm water damage, and gradual damage. In general, insurance defines water damage as any problems caused by water before it comes in contact with the ground:
A severe rainstorm that soaks through your roof and damages walls and floors
A pipe that bursts, saturates ceiling below
A toilet that overflows and soaks bathroom floorboards
A hailstorm that breaks windows and allows water to enter
What Water Damage Does Your Insurance Cover?
Every policy is different, so the only way to know your coverage is to carefully read your insurance policy. Many insurance companies include sneaky exclusions when it comes to covering water damage.
If your water damage is caused by an issue that should have been fixed or prevented – like freezing pipes or a faulty toilet – you may have trouble convincing your insurance company to cover the repairs. This is also true for gradual damage that occured over time and could have been repaired previously.
Why Did Your Insurance Deny Your Claim?
If your insurance denied your water damage claim, it is most likely because your water damage problem was categorized as not falling under your existing coverages. Many homeowners aren't aware of water damage exclusions in their policies until their claims are denied.
If you believe your insurance company is incorrect or purposefully trying to prevent you from collecting money for repairs, it's possible to get a second opinion or hire an attorney to challenge your denial on your behalf.
Turn to An Attorney For Help
The attorneys of Weldon & Rothman provide aggressive representation for insurance disputes to residents of Naples, Florida and surrounding areas. If you need expert help challenging your claim denial and pursuing insurance litigation, Weldon & Rothman will hold your insurance carrier accountable.
Call (239) 262-2141 to schedule your free consultation at Weldon & Rothman in Naples, Florida today.