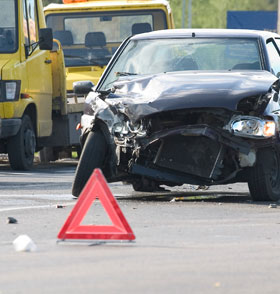 Even if you are a safe driver, there's always a risk that a negligent driver on the road will cause an accident that leaves your car damaged and your body injured. As soon as an accident occurs, it's essential for you to respond with these five steps. Taking the right measures will help you increase your odds of being awarded compensation for your pain, suffering, and financial costs.
Call the Police
After checking for injuries, call the police immediately. Even a relatively minor accident should still receive police attention in order to formally document the events. Get a copy of the police record for yourself as leverage in your insurance claim.
Collect Information
It is essential to collect the insurance information of the other drivers involved in the accident. Write down the name, address, phone number of each individual, as well as the name of their insurance company and policy number. Also jot down the car's make, model, and tag number.
If any other drivers or bystanders witnessed the accident, take down their names and phone numbers as well. You could even ask them to record a statement of the accident, since memory fades quickly after such an event.
Take Pictures and Videos
Pictures and videos are some of the most powerful tools in a personal injury claim. Document the accident, including all cars, how they are positioned, the damage that occurred, and the surrounding traffic signs, lane markings, trees, and anything else with potential relevance to the crash. Time of day, direction, and driving speed before accident should also be notated.
Call Your Insurance Company
Call your insurance company to inform them of the accident, even if the accident was not your responsibility. If you plan on hiring an attorney, you might want to call your attorney before speaking to your insurance company. Your lawyer might want to serve as the main point of communication to make sure you aren't tricked into accepting blame or a lower settlement.
Hire an Attorney
A personal injury attorney at Weldon & Rothman will meet with you personally and help you navigate the aftermath of your accident. This includes how to speak to police and insurance, collecting the best evidence, and pursuing a compensation settlement that more than meets your financial needs for medical bills and lost wages.
Call (239) 262-2141 to schedule your free consultation at Weldon & Rothman in Naples, Florida today.