Have you been told that you are a contract worker, only to discover that you were missing out on benefits by being defined as such? Especially if the position is temporary or seasonal, an employer is likely to hire either a contract or temporary employee. Often, employers will hire you as a contract employee so that they do not have to pay your insurance, overhead, expenses, benefits, or employment taxes.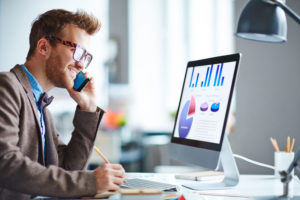 Sometimes these arrangements are on the up and up and beneficial for both parties, but often employers are intentionally deceitful in their labeling of employees to cut corners and save money. Luckily, there are some definitive ways that you can tell if you are a contract employee or a temporary employee.
If you are a contractor or contract employee, you are actually in business for yourself.
How do you know if you are really in business for yourself? Well, there are a few ways that the IRS tells you to look at.
You are responsible for how the work is completed.
You have your own liability and workers' compensation insurance.
Although deadlines might be set by customers or clients, no one can tell you when to work.
You set your own hours, your own schedule, and take time off as desired.
You pay self-employment taxes quarterly.
As a contractor, you are truly your own boss. Even though you might need to follow the clients' rules to keep them happy, paying customers, ultimately what you do and how you do it are entirely up to you.
Temporary employees are paid like any other employee.
If you are working a seasonal or temporary job for an hourly wage, you are likely a temporary employee. Often temporary employees are managed by temp agencies who supply temporary workers for specific industries. However, some companies do hire temporary employees directly.
When a company hires temporary employees directly, it is important to make sure that they are labeling your employment correctly. Employees are entitled to certain benefits, as well as a minimum wage and overtime pay. You know you are an employee if:
You are required to work a specified number of hours
You are given a work schedule
You are paid an hourly wage
If you answered yes to any of the above questions, you are definitely not in business for yourself. If you can't make decisions like when to work, you are an employee.
So why is it such a big deal?
The problem with being labeled a contractor instead of a temporary employee is that you are missing out on federal and state protections that are afforded to employees in the private sector. As an employee you get a minimum wage, a minimum benefits package, and overtime pay. You'll also receive unemployment benefits if you are fired, whereas contractors typically do not qualify for unemployment.
If you have found yourself on the short end of the stick in such a situation, it is important to fight back and get the compensation you deserve. Not only do you deserve to be paid fairly, but it is certain the company will do the same to other individuals if not stopped.
By contacting us to schedule a consultation, you are taking steps to not only recuperate your losses, but also to end unfair employment practices at that company. Call or message today.